Who hasn't wanted to volunteer abroad at some point? It's a chance to justify the self-indulgence of travel by saying "I want to help the developing world." I kid, I kid - regardless of motivations, volunteering abroad is surely a good thing, although Daily Mail "journalists"
might try and have you believe otherwise.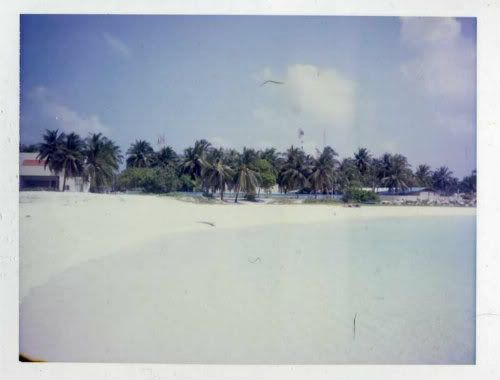 However, when we think of people volunteering abroad, we think of super gung-ho, over privileged "gap yah" style early twenty-somethings. "Giving something back" is a luxury that the rest of us can't usually afford and so we feel doomed to be uncultured philistines forever more. Well this isn't always the case - I secured a place on the now defunct International Volunteer Programme co-ordinated by the "Friends of Maldives" (also now defunct) which I didn't have to pay for and actually provided a living allowance to twenty or so volunteers to travel to the beautiful archipelago to teach and "get involved with local projects".
I arrived in the Maldives on the 29th December 2011 after the longest flight I've ever been on to see a country which was like nothing I'd ever seen before. Maldivian school term started on the 8th of January and we were advised to arrive a few days early for a poorly organized "orientation" consisting of, among other things, a Dhivehi literacy class (where we learned nothing) and attempting to open a bank account (we didn't manage it). On the itinerary was a meeting with the president, yes, the president! Boasting on their blogs and facebook statuses, the other volunteers were clearly super stoked to have met the president; but whilst we may have felt like great big British diplomat superstars the Maldives has a population of 300,000, which makes our Maldivian political engagement somewhat comparable to meeting the mayor of Scunthorpe. Oh. He did promise us a trip to his island where we could utilize a variety of luxury facilities, but it turned out just to be president talk.
I'll be the first to admit that I had never considered teaching before, nor did I think I would be any good at it. But this was volunteering abroad, I thought it wouldn't matter that I was unqualified and hated school myself when I was in it, these children would love us; we have come a very long way to help them learn a useful language! However, they hated school just like British kids and I'm sure I'll remember for a long time a 10 year-old child giggling and saying to me "You're going to hell" in response to "Will you get back in your seat, please?" The other teachers were generally not too welcoming, with the exception of the other expat teachers who were generally from India and Sri Lanka, who also suffered from some degree of ostracism from the Maldivian people. When being interviewed for the position, the interviewers lit up when I mentioned I play guitar saying that the kids would love it – but I did not bother presenting my would-be rockstar self to these children as it would have no doubt produced cringe-worthy moments and confirm that I am nowhere near as cool as I appear in my head. Although, I doled out high fives to some of the younger children when they got correct answers and on the way out of class, sometimes there would be a small queue forming to slap my hand, which definitely felt kinda awesome.
One notable point about the Maldives is that the religion is pervasive in politics, which had an influence on a variety of factors but most relevant for young people is the legal status of alcohol. Initially I had planned to brew some prison wine or "pruno", which I thought was worth making just to follow
this hilarious write-up
alone. However, I realized that lucidity is not the horrible nightmare we might believe it is, although a gin and tonic upon my eventual return to the UK was greatly received. Lo and behold, good conversation outside of the pub does exist.
There were some good moments. Some children were just great with such fantastic imaginations and I probably would have left after a week of volunteering if it hadn't been for them. It certainly was an experience and I'm glad I did it. And of course, the Maldives is an absolutely beautiful country with the most amazing beaches I have ever seen. The sad thing was that I didn't feel like most of the children had been taught to respect foreigners or women and that my volunteering was lost on them. And so I left an 11 month placement 3 months in not only because I did not find teaching in the Maldives a particularly pleasant experience, but also because of an unstable political situation, feeling unsafe generally (we were broken into twice), and because I felt like there wasn't room for an English volunteer in the Maldivian school system, especially as the International Volunteer Programme is no more since political changes.
Unfortunately we don't even get to say we met the president since he was forced to resign, allegedly by gunpoint, just "former president Nasheed" which sounds nowhere near as good in conversation. But I did get a killer tan.